Name of the company: Moonburg Power Private Limited
Details of business: To provide hospitality management services, facilities management services, project delivery, services and workplace solutions in India and overseas, including providing, management, supervision, administration and maintenance services to hotels and resorts of every kind and sort, serviced apartments, convention centres, shopping galleria, retail and service shops, offices, health clubs, fitness centres, restaurants, pubs, bars, clubs, discotheques, casinos and other similar businesses in the hospitality industry.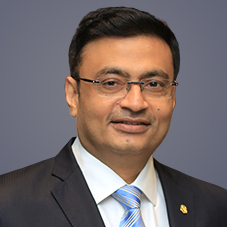 Anuraag Bhatnagar
Chief Executive Officer
The Leela Palaces, Hotels and Resorts
Anuraag Bhatnagar, is the Chief Executive Officer at The Leela Palaces, Hotels and Resorts. He currently oversees the brand's compelling portfolio of 12 uber luxury iconic hotels in some of the most alluring destinations in India.
Anuraag joined The Leela in 2020. Under his leadership the brand has established itself as a leader in every market in which it operates, winning coveted industry accolades. The Leela also opened 5 hotels under his watch and has launched several new initiatives such as The Leela Palace Services, Ceremonial Rituals, Tishya by The Leela, Aujasya by The Leela and Icons of India by The Leela to further elevate its positioning as an epitome of true Indian luxury.
Prior to joining The Leela, Anuraag was the Multi-Property Vice President at Marriott International for Mumbai, and Goa overseeing 12 hotels. He has worked across brands like St. Regis, W Hotels and The Ritz- Carlton and Oberoi Hotels where he honed his skills in delivering luxury hospitality experiences.
He is an alumnus of Delhi University, IHM Pusa and is also on the board of Hotelier India magazine. Anuraag has also completed Executive Leadership courses from the Indian Institute of Management, Bangalore, and the University of North Carolina.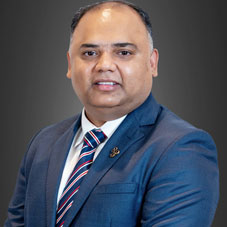 Ravi Shankar
Chief Financial Officer
The Leela Palaces, Hotels and Resorts
Ravi Shankar is the Chief Financial Officer at The Leela Palaces, Hotels and Resorts. He joined the company in January 2020 and has since been instrumental in driving the company's overall performance.
A well-known hospitality professional, Ravi comes with an extensive experience both within India and internationally. His career includes several noteworthy assignments with top corporate houses and Hotel companies, such as RSM & Co., Le Meridien, Starwood Hotels and Resorts and Marriott International. With over two decades of rich and varied experience in the hospitality and real estate industry, Ravi brings with him a sharp business acumen and a deep understanding of the sector.
Over the years Ravi has honed his skills in all aspects of Financial Accounting, Asset Management, Risk Assessment and Management and Controls and Compliance, Operations and Revenue Management. He has provided strategic guidance to the company during a very crucial phase of its growth with a focus on the topline while ensuring healthy and robust bottom line and flow throughs.
Ravi is a finance professional with a LLB degree and Chartered Accountant from The Institute of Chartered Accountants of India.
Anjali Mehra
Chief Brand Officer and Senior Vice President Marketing
The Leela Palaces, Hotels and Resorts
Anjali Mehra is the Chief Brand Officer and Senior Vice President Marketing, The Leela Palaces, Hotels and Resorts. She joined the company in July 2020 and has since worked on building brand strategies.
With over three decades of experience across geographies, Anjali has worked with several luxury brands and brings with her a good understanding of today's evolving luxury hospitality landscape and the needs of the discerning global traveller. For over a decade, Anjali spearheaded the Marketing and Communications strategies for Starwood Hotels in India and South Asia and subsequently, Africa and Indian Ocean. Prior to joining The Leela, Anjali was the Senior Director Communications Middle East and Africa, Marriott International, a role she assumed post the merger of Starwood Hotels with Marriott International. She has also worked with other well-known hospitality brands including Hilton and Taj Hotels.
Her extensive experience in brand building and marketing is matched by her passion for storytelling. She has launched and continues to evolve The Leela's new brand initiatives such as Icons of India by The Leela, Tishya by The Leela and Aujasya by The Leela. She is also responsible for enhancing the brand image and developing the brand's global go-to-market marketing strategies as The Leela embraces the next new phase in its growth trajectory.
Anjali is a Postgraduate in English literature from Delhi University and also hold a Management Degree in Marketing and in Journalism and Mass Communication.
Financial information
Click here
Contact information of designated officers
Ms. Jyoti Maheshwari
Company Secretary
Email: cs.moonburg@theleela.com
Name and address of debenture trustee

CATALYST TRUSTEESHIP LIMITED
Windsor,6th floor, Office No. 604, C.S.T Road, Kalina, Santacruz (East), Mumbai 400098

Tel No. 91 (022) 49220505
Email: ComplianceCTL-Mumbai@ctltrustee.com
Attention: Mr. Umesh Salvi, Managing Director

Credit rating
Click here
Information and reports including compliance reports filed by the issuer
NA
Corporate Announcements

Board Meeting Intimation August 27, 2023: Click here
Board Meeting Intimation August 04, 2023: Click here
Board Meeting Outcome August 04, 2023: Click here
Board Meeting Intimation August 09, 2023: Click here
AGM Intimation August 09, 2023: Click here
Annual Report: Click here
Outcome of the AGM August 09, 2023: Click here
Outcome of Board Meeting August 09, 2023: Click here
Intimation for Board Meeting August 14, 2023: Click here
Outcome of the Board Meeting August 14, 2023: Click here
Newspaper Publication June 23 Results: Click here
Intimation to change in credit rating under corporate Announcement: Click here
Revised Credit rating under credit rating: Click here
Board Meeting Outcome September 27, 2023: Click here