Social Responsibility at The Leela
#LeelaCares
The Leela is a brand with purpose, dedicated to actively caring for our guests, our associates, our partners, the environment and the communities in which we operate.
Our social responsibility strategy is aligned with the Brookfield ESG guiding principles and is centered around four pillars.
Environment and Sustainability

Community Outreach

Safety

Diversity and Inclusion
Environment and Sustainability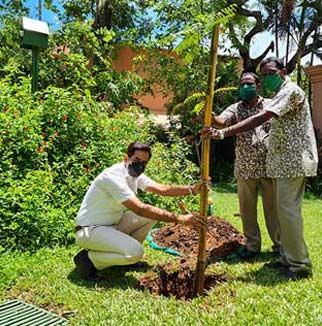 In our aim to create luxurious experiences for our guests, we consciously believe that it is of utmost importance to act responsibly and respectfully towards the environment. We do this through green, building management systems, our focus on improving indoor air quality and our commitment towards global net zero greenhouse gas emissions by 2050. We are working towards creating renewable energy solutions across our properties. We use LED lighting in all properties and conserve water through the use of low flow equipment.
The Leela Palaces, Hotels and Resorts is committed towards eliminating all single use plastic across its portfolio. We prioritise waste management and have implemented zero waste initiatives. Many of our properties have their own organic kitchen gardens and herbarium on premises, to grow and use organic fresh produce.
Community Outreach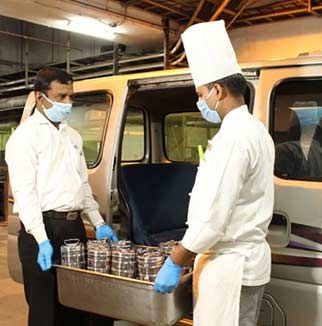 True to The Leela brand, we strive to not only be the epitome of true Indian luxury but also to remain socially conscious in everything that we do by actively contributing towards the overall development of the community.
The Leela Palaces, Hotels and Resorts supports Kailash Satyarthi Children's Foundation (KSCF) which envisions a world where all children are free, safe, healthy, receive quality education, and have the opportunity to realize their potential. Through our association with KSCF, The Leela supports the education of children at 11 Bal Mitra Gram™ (BMG™) or Child Friendly Villages, an internationally recognized model for child-centered rural development while promoting child protection and child development.
Should you wish to make a contribution, please visit https://satyarthi.org.in/donate/
Guided by our ethos, "Atithi Devo Bhava", our commitment to help and care for people comes instinctively. The Leela has also entered into a partnership with Jodhpur Mahila Griha Udhyog to source bags that are used at our hotels. The wellness teas placed in the hotel guest rooms are manufactured by Jalinga Tea Estate which has a women workforce of more than 80%.
Safety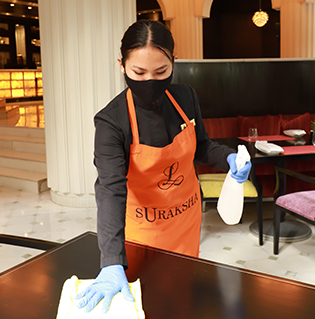 The safety of our guests and associates is of paramount importance to us. To reinforce our commitment towards the safety and wellbeing of our guests and associates, we have implemented sUraksha By The Leela in partnership with Bureau Veritas India. Aimed at elevating sanitisation, hygiene and safety procedures, it builds on The Leela's enhanced safety protocols to deliver a safe environment for guests and associates. The Leela is also one of the first hotel chains to fully vaccinate all our eligible and available associates across the brand thus strengthening our dedication towards ensuring the safety of guests and associates in our care.
Diversity and Inclusion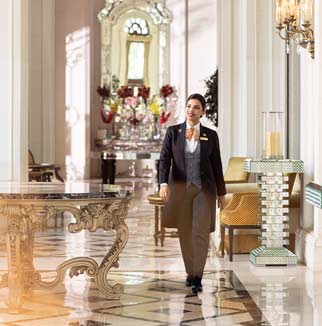 The Leela is committed towards promoting equal opportunity for all and respects diversity to build an inclusive work culture. We foster a positive work environment based on respect for human rights, valuing diversity, and zero tolerance for workplace discrimination, violence or harassment. We firmly believe in cultivating an environment where all genders are welcomed, accepted and valued. Our collective commitment is to provide our associates and stakeholders with equal opportunity and to ensure that every associate is able to thrive and flourish in a work culture that is based on openness and respect for all.