Presidential Suite
With access to a 24-hour butler and the Royal Club amenities, you are almost in seventh heaven, right here on the sixth floor. This suite is for the business traveller who looks for the best of amenities.
Spread across 3617 sq ft (336 sq mt) of elegantly adorned space, our Presidential Suite is made precisely for echelons of society. Assigned with a personalised Butler service, the suite comes with the spectacular view of the Rajokri Greens and has a luxurious living room, dining room, bedroom, private study, massage parlour and butler pantry. And these are just some of the features that will enhance the indulgence quotient of your stay.
The suite also comes with complimentary airport pick-up and drop along with access to Royal Club Lounge that serves breakfast and hi-tea. Guests can also enjoy cocktail hours at the Royal Club Lounge, every day, from 6 pm till 8 pm. Guests above 18 years of age are allowed access to the Royal Club Lounge.
Amenities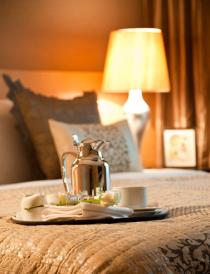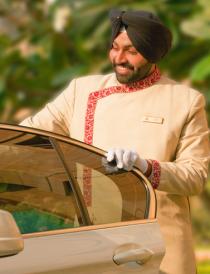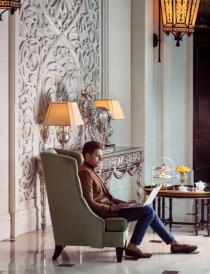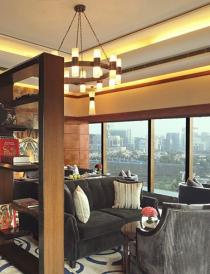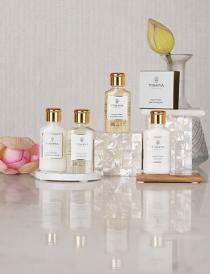 Our proficient butlers ensure each guests' distinctive preferences and requests are perfectly noted and delivered. No matter the time of day, no request is too small or unobtainable.
Commute in style with our chauffeur-driven, top-of-the-line luxury cars equipped with enhanced safety and hygiene protocols under Suraksha by The Leela.
Stay connected with high speed internet with a fast and reliable connection.
Enjoy complimentary access to the exclusive Royal Club Lounge along with hi-tea and cocktail hours.
Immerse yourself in a unique sensory experience with our range of exclusively crafted bath amenities.
24 x 7 Butler service

Our proficient butlers ensure each guests' distinctive preferences and requests are perfectly noted and delivered. No matter the time of day, no request is too small or unobtainable.

Complimentary two way airport transfers

Complimentary high-speed internet

Privileged access to Royal Club Lounge

Tishya by The Leela bath amenities