Royal Suite
This 1800-sq.-ft. exclusive suite on the third floor offers a breath-taking view of the Aravallis and the tranquil Lake Pichola. Airy and modern, with an understated feel of royalty all around, these spacious suites redefine Indian grace and luxury.
Another of the spaces in the hotel, this Suite is dressed up all around with Thekri, the traditional Mewari art form of intricately chiselled mirrors on plaster. Gold-leafed floral and paisley motifs, mother-of-pearl artefacts and inlaid handcrafted white marble further highlight its ornate exquisiteness. Then, there is the hand-painted gold-leafed dome that is hard to miss.
The Master bedroom, with a four-poster bed, provides an intimate sanctuary. Richly endowed in its décor and upholstery, the suite comprises a spacious dining room, private kitchenette, a marble-laid bathroom and jacuzzi, as well as a personal butler.
Amenities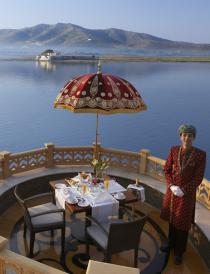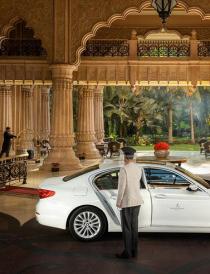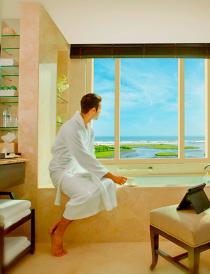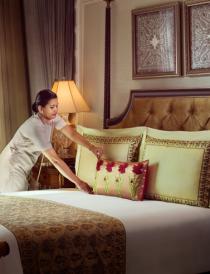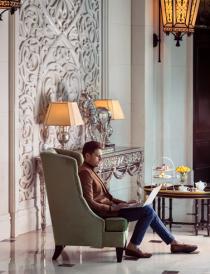 Experience a unique and signature service where every guest experience is personally curated by the Butlers assigned to you as a single point of contact before, during and after your stay.
Ride in luxury with BMW transfers with the reassurance of safety by Suraksha by The Leela. All our chauffeurs follow the COVID 19 protocols.
Signature bath amenities exclusively crafted for The Leela keeping your comfort in mind.
Choose from an array of pillow options, from goose down feather to exclusive neck supporting pillows, to promote rest and rejuvenation in the most comfortable setting.
Stay connected with high speed internet with a fast and reliable connection.
The Leela Palace Service

Experience a unique and signature service where every guest experience is personally curated by the Butlers assigned to you as a single point of contact before, during and after your stay.

Airport transfers in BMW

Luxury bath amenities

Pillow menu

Complimentary high-speed internet