Sree Padmanabhaswamy Temple
Featuring an idol carved using over 12,000 Shaligram stones from the bed of River Gandaki in Nepal, Sree Padmanabhaswamy Temple, often regarded as the richest temple in the world, stands as tall as the tales it tells. It features a 100-foot tall gopuram or entrance gate that introduces you to the grandeur of the temple, with an 18-foot idol of Lord Anantha Padmanabhaswamy – an incarnate of Lord Vishnu. As you walk in, it's hard to miss the elaborately carved pillars supporting the corridor, adorned with sculptures of Hindu deities and murals of the past. Unlike the usual idols you see when you visit a place of worship, there is something quite unique about this one, depicting the lord in an Ananthasayanam posture, laying down on his Adishesha (Serpent). The statue can be viewed through not one but three doors, giving the devotees a chance to view it from different angles.
This beautiful amalgamation of Kerala's style with Dravidian architecture has a rich history dating back almost 5,000 years as described in legends left behind on palm leaves. It is also believed to house a large amount of treasure – owing to its title of the richest temple in the world. The treasure is a collection of valuables stored in a series of vaults, collected over a span of thousands of years, and includes coins, ornaments, statues, and artefacts traded from all around the world.
Through the different doors to the sanctum, different parts of the lord can be viewed. You can see the face and upper body of the deity through the first door, Lord Brahma emerging from the navel of the statue through the second door and the feet of the lord through the third. Not just Lord Brahma, but even Shiva, Lakshmi and Bhu devi can be seen inside the main sanctum. There are also shrines dedicated to Narasimha, Lord Krishna, lord Ganesh and Lord Ram accompanied by Lady Sita amongst others. This structure holds tremendous religious and architectural value to the people of the Hindu faith and is definitely a location you do not want to miss if you are in the state of Kerala.
Location: Thiruvananthapuram
Distance from the hotel: 14 km
Distance from the airport: 4 km
Driving time: 22 minutes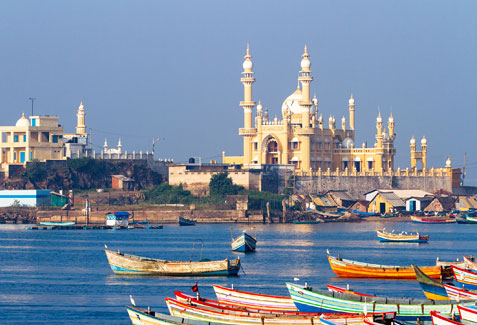 The Beemapalli Dargah Shareef was built as an ode to Beema Umma and her son Sayyidussaheed Maheen Aboobacker, who were buried here and are believed…
Explore more