Leela DISCOVERY is our innovative loyalty programme, offered in partnership with Global Hotel Alliance (GHA). It is beyond just a loyalty programme, it is a journey that enables members to explore more and experience more wherever they are.
The programme has evolved to embrace the new world of travel, redesigning the programme's recognition, benefits and rewards to be accessible, even when members are not travelling. Members can now enjoy exclusive access to hotel facilities and amenities with or without a stay, or book member-only experiences that immerse them in local culture. The enhanced design of the programme offers three flexible paths to reach elite status; an extra tier for faster progression; and opportunities to earn and spend generous DISCOVERY Dollars (D$) – the newly introduced cash-back rewards currency.
Leela DISCOVERY has four levels — Silver, Gold, Platinum and Titanium, that members can achieve through stay activity or spend. Each level allows members to earn DISCOVERY Dollars (D$) and gives increasingly enhanced stay benefits. Status and rewards are recognised across GHA's distinctive global collection of 500+ hotels of 35+ brands.
JOIN NOW to start your DISCOVERY journey with us. If you are already a member, please log in here.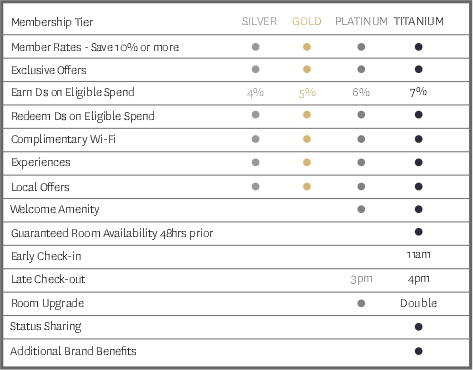 For Terms & Conditions and a detailed overview, please click here.
Connoisseur Club is our food and beverage based loyalty program that allows you to discover and indulge in a world of gourmet along with special privileges. The membership is open to Indian nationals and can be availed at five of our hotels, including The Leela Palace Bengaluru, The Leela Ambience Gurugram Hotel & Residences, The Leela Gandhinagar, The Leela Ambience Convention Hotel, Delhi and The Leela Mumbai.
As a privileged member, you are entitled to a host of special benefits including discounts on dining and stays. Please click the below to view the card benefits for each participating hotel:
Terms and Conditions (valid at all locations)
The membership term (validity period) shall be for a period of 12 calendar months from the date of issuance of the membership.
The choice of membership level must be made at the time of membership enrolment.
The Connoisseur Club Card Benefits and Gift Certificates are not valid on 24th December, 25th December, 31st December and on Special Promotions as determined by the hotel.
Children above the age of Five (5) are included in the total guest count for the purpose of calculating card or certificate discounts.
The Membership Card is non-transferable and the hotel has the right to request the member for a valid Government approved photo ID at the time of using the card.
The Membership Card and the Certificates have no cash value and cannot be traded. Lost or misplaced certificates cannot be replaced.
Lost or stolen membership cards must be immediately reported to the Member Help Desk. An administrative fee Rs.500 + GST will be charged for a replacement Membership Card, which will have the same expiry as the original Membership Card.
Room bookings must be made through the Member Help Desk. Any bookings made through Travel Agents or Corporations are not eligible for discounts or benefits under the program.
Rooms are subject to 'Connoisseur Club allocation' availability and prior reservations.
Cancellations or amendments to the reservation must be made at least 48-hours prior to the date of arrival. Hotel policy on retentions apply on all reservations and members are advised to check the policy at the time of making reservation requests.
Discounts can only be availed upon presentation of your valid Connoisseur Club membership card. The value of the specific discount does not include taxes.
To avail of the membership discount, the requirement is that two food items must be ordered. Only one card can be used per visit / per table/ per party. Membership benefits will not apply during promotions, special events and festivals as determined by the hotel.
All certificates are for one-time use only, are valid for use at the specified hotel only and need to be surrendered in original to avail of the benefit. Only one Food/ Beverage certificate can be used per meal period.
Membership discounts are not applicable at The Leela Palace New Delhi, The Leela Palace Chennai and the Le Cirque Signature Restaurant at The Leela Mumbai.
Membership Card Benefits on dining are not applicable for a stay of more than five (5) continuous nights at any participating hotels of The Leela Palaces Hotels and Resorts.
The management reserves the right to change the terms of the membership from time to time without any notice.
Detailed Terms and Conditions are available on the Membership Brochure.
The membership to this program is open to Indian Nationals only.
Connoisseur Club program is operated by TLC Relationship Management Pvt. Ltd. and its affiliates www.tlcgroup.com under license from The Leela Palaces, Hotels and Resorts.