Vitality by The Leela
Vitality By The Leela, is on the launchpad. It's a holistic well-being program developed in collaboration with Dr Ankita Jalori, a nutrition and wellness consultant of repute. This program is aimed at defining and improving the nutritional profile of food menus across our hotels with the goal of helping our guests make informed choices. The Vitality menus will be thoughtfully curated to achieve a fine blend of the health needs and taste preferences of our esteemed guests. Vitality by The Leela will allow travellers to overcome the disruptions in one's wellness routine when on the move. Let's travel together on the Road to Wellness.
Ginger Turmeric Tea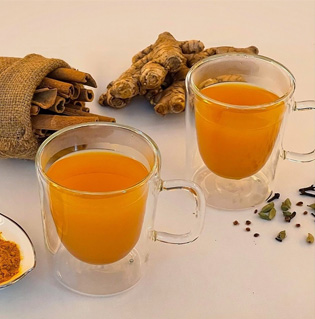 Serves - 4
2 - Inch ginger
1 - Inch Ceylon cinnamon roll
1 - Teaspoon turmeric
5 - Cardamom pods
1 - Tablespoon black pepper
1 Teaspoon jaggery
4-5 Strands of lemongrass
1 - Tablespoon jaggery/honey (optional)
1 - Teaspoon lemon juice
4 - Cups water (200 ml)
Method
In a mortar and pestle take 2-inch ginger, 1-inch cinnamon, 5 cardamom and 1 tsp black pepper.
Crush into a rough paste, keep aside.
In a saucepan take 4 cup water and add in the prepared ginger spice mix.
Add 1 tsp turmeric and 1 tsp jaggery.
Mix well, boil for 5 minutes or until flavours are absorbed well.
Strain the tea and add 1 tsp lemon juice.
Once the ginger turmeric tea is ready, serve it hot in a mug and enjoy.
Narangam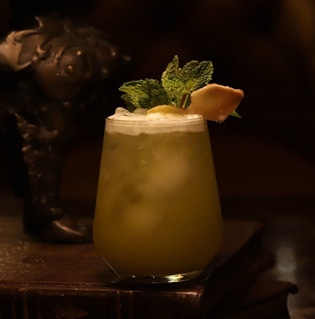 A herbal concoction of Vedic ingredients which is perfectly balanced and helps build immunity.
Serves - 1
Half an orange without skin
6 - fresh mint leaves
1/2 - Inch of fresh ginger
1/2 - Teaspoon lemon juice
120 ml of water
A pinch of salt to balance
Method
In a blender, add all the ingredients and blend for 20 secs till it becomes smooth.
Double strain the blended ingredients in a serving glass.
Garnish with a sprig of mint and a slice of fresh ginger or an orange wedge.
Watermelon Booster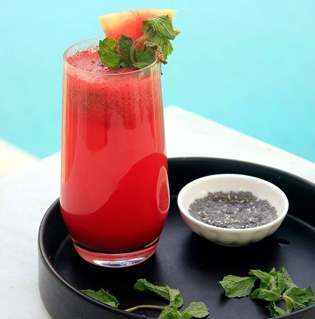 Serves - 1
120 ml of freshly pressed watermelon juice
10 gms - Soaked chia seeds
1 - Teaspoon lemon juice
A few mint leaves
Method
Blend together watermelon juice, chia seeds and mint leaves.
Double strain the mixture.
Add lemon juice.
Garnish with a sprig of mint and serve chilled immediately.
Dhungar Watermelon & Ginger Martini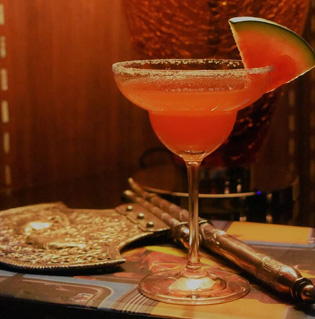 Serves - 1
60 ml smoked, homemade ginger ale
1 green chilli
6-7 chunks of fresh watermelon
3-4 slices of fresh ginger
10 ml of honey
5 ml of fresh lime juice
½ teaspoon of turmeric
½ teaspoon of black pepper
Method
Muddle the watermelon chunks, green chilli and ginger together.
Strain in a serving glass and add lime juice.
Add honey, black pepper and turmeric. Stir well.
Top all of it up with smoked ginger ale.
Haldi Kadha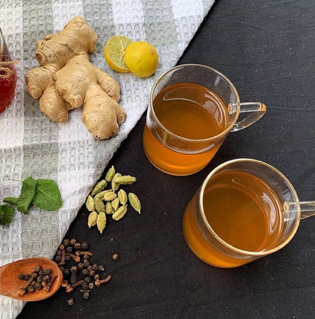 Serves - 1
5 - 10 - Tulsi leaves
2 - Cinnamon sticks
1 piece - Ginger (about 2 inches long)
4 - 5 - Black peppercorns
3 - 4 - Organic cloves
½ - teaspoon organic turmeric powder
Organic honey or jaggery to taste
2 Cups - Water
Method
Crush together ginger, tulsi leaves, cinnamon sticks, black peppercorns, and cloves in a mortar and pestle.
Add this mixture to a small pot.
Add water, sugar or jaggery, and turmeric powder and stir well.
Bring to a boil and keep on the flame till the quantity of liquid is halved.
Strain and drink it hot.
Blended Vitamin C Citrus Juice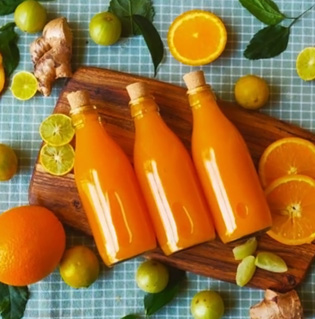 Serves - 2
3 - Oranges
2 - Limes
2 - Indian gooseberries / amla (optional)
1 - Inch of ginger
A pinch of turmeric
A pinch of black pepper
A pinch of sea salt
1 cup of water
Method
Peel and cut the fruits.
Add it to the blender with salt, black pepper, ginger, turmeric, honey and water.
Blend on high until smooth and no pieces of fruit remains.
Serve immediately.