Grande Heritage Garden View room with Private Pool
Wake up to tranquillity in our Grand Heritage Garden View Rooms with private pool. Take some time out to enjoy a refreshing swim in our azure pool or relax in our spa. You may even head out to our fitness centre for a good round of workout, if you please.
Some of these rooms are attached with a balcony, offering a panoramic view of the mountains in the horizon. Look out at the breath-taking view of the majestic Aravallis towering over the tranquil Pichola Lake.
Stay in either the Lake wing or the Palace wing, and in addition to amenities that cater to the astute modern-day traveller, the rooms you walk into have elegant, contemporary interiors adorned with traditional Rajasthani art and craftwork by local artisans, and exquisite fabrics embroidered with regally inspired designs. Even our furniture is embossed with tarkashi work, a popular art form involving intricate brass wires, strips and motifs set in dark wood.
Amenities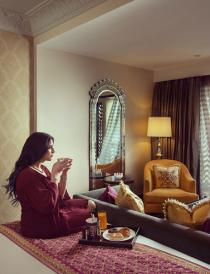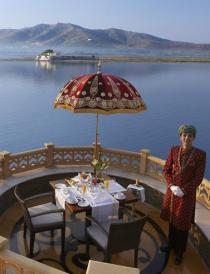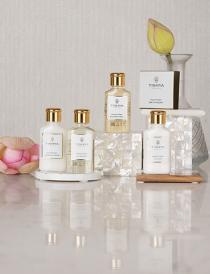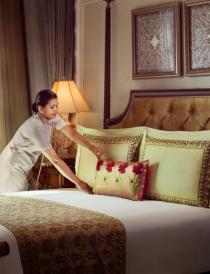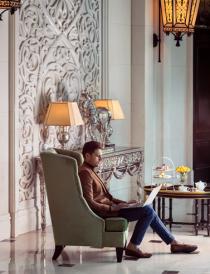 Choose from a round the clock menus and dine whenever you want.
Experience a unique and signature service where every guest experience is personally curated by the Butlers assigned to you as a single point of contact before, during and after your stay.
Immerse yourself in a unique sensory experience with our range of exclusively crafted bath amenities.
Choose from an array of pillow options, from goose down feather to exclusive neck supporting pillows, to promote rest and rejuvenation in the most comfortable setting.
Stay connected with high speed internet with a fast and reliable connection.
24 hours in room dining

Choose from a round the clock menus and dine whenever you want.

The Leela Palace Service

Tishya by The Leela bath amenities

Pillow menu

Complimentary high-speed internet