Beemappalli Dargah Shareef
The Beemapalli Dargah Shareef was built as an ode to Beema Umma and her son Sayyidussaheed Maheen Aboobacker, who were buried here and are believed to be descendants of Prophet Mohammed. Beema Umma is believed to have tremendous spiritual prowess and came to Kerala from Arabia with her son in order to preach Islam. Mosques that house tombs remind us of the fragility of life and the unending quest to attain peace. Maybe this is what draws thousands of devotees to this mosque every year – to pray, heal and learn together.
The story of Beema Umma is not where the magic stops. There are 2 wells in Beemapalli, one that holds cold water and the other that holds hot water. The water inside these wells is believed to have medicinal properties that can cure many diseases and doesnt dry up even in times of drought. There is also an annual festival held in memory of Beema Umma called Beemapalli Urus or Chandanakudam Mahostavam that is highlighted by devotees bringing earthen pots of Kudams filled with coins for about 10 days.
The mosque was actually built by Hindus and is open to devotees belonging to any faith. The beautifully built pink minarets symbolize faith and integrity, along with togetherness equality.
Location: Thiruvananthapuram
Distance from the hotel: 11 km
Distance from the airport: 6 km
Driving time: 23 minutes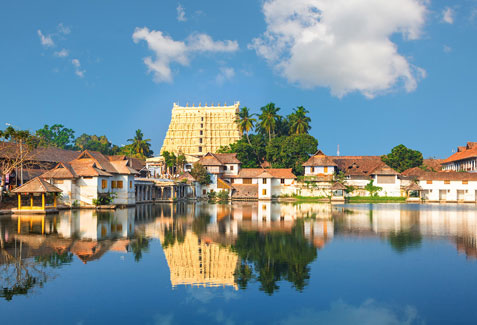 Featuring an idol carved using over 12,000 Shaligram stones from the bed of River Gandaki in Nepal, Sree Padmanabhaswamy Temple, often regarded as…
Explore more